Apr 12, 2015
Contact the show
www.ohbeep.com/65
or
feedback@ohbeep.com
This Week..
We take on the KT Power Trail (121 caches of pure film pot heaven)
Miss Watto has a memorable DNF
Englans first GeoTour is launched
Aprils Ey Up Me Duck challenge is announced
Last Week..
GC2VMMF Boo! by Lord Boogie
A memorable DNF.. GC1D357 Tea, Earl Grey, Hot by The Meandering Mammas now adopted by Lord Boogie.
We went out to get the caches, inspired by the podcast, set by The Silent Searcher
GC5NAT3 Dont forget to log it Dr D - by the time we to this one the light was too bad, we'll leave it for another day when Sam is with us
GC5NAR9 Oh Beep. We have featured this cache in our Nemesis Geocaches section and now, having searched for it, we can safely say it has earned its place on that list.
GC5NAPG Banana source. Sophie and Ben couldn't wait to get to this one. A banana in a tree.
KT Power Trail..
Months ago Moan-a-lot asked if we'd like to do the KT Power Trail, yes we said. 7 of us attempted it yesterday (Ponka&the Ponklets, Fat Jim, Teresaa, tinytom99 and Moan-a-lot). A series made up of 121 Geocaches, we grabbed 130 on the day. The additional caches were those around the KT route. Sam and I left the house at 5.30am and got back home at about 8pm, so long days caching. We parked near number one, did the first five caches in the series and then caught the train from Macclesfield to Kidsgrove. We then proceeded to the do the series in reverse, walking our way back to the cars. The series itself covered 15 miles, but several of us were tracking on different devices and we ended up walking between 18 and 20 miles in total. The canal route itself has some stunning views and some fun elements (a painted cow sculpture in a garden?). So do it as a numbers run, or break it down to a few visits so you can enjoy the walk and the views - it works as both.
Our groups age range was 14 to 46, all completed it (with varying degrees of pain at the end).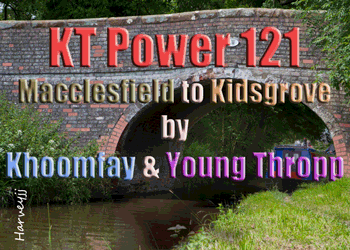 KT Power #006 'The Start' by KhoomThropp
iCaching batch processing came in useful for logging all the finds of the KT Power Trail
News..
High-tech treasure hunt launched in the South Downs www.wscountytimes.co.uk
England's first GeoTour, a high-tech treasure hunt through interesting places, launched in the South Downs National Park at on 31 March 2015.

Designed to reveal its hidden gems, people can have an adventure by following the tour over hills, across commons and through woodland, collecting passport stamps and points along the way.

"You also earn points for eating locally, staying in sustainable accommodation and travelling by bus, train and bike. When you have enough you can claim your special silver and gold souvenir geocoins created for us by Pulse 72."

The tour is made up of 30 sites in the National Park across Hampshire, East and West Sussex. As well as the usual log book and small trinkets to trade each cache will also include ideas for things to do and see whilst you're in the area.
Feedback..
Six year old Silent Searcher explains how a clever cache hide works.
Nemesis Geocache..
Pretty much anything that involves a film pot. No more to be said on that.
Dumb Stuff Geocachers Do..
That time you're searching for a D/T 1/1 Geocache and you end up in an holly bush. Best thing about it, the cache was no where near where he was searching.
GC197RE Sidetracked - Congleton by The Bignall Boppers


OR the time you are so intent on finding the cache that you risk life and limb climbing down a very steep bank and then back up only to realise there was a footpath a few feet away (one that you'd passed).
GCY90P Heartbreak Hill-Pool Lock Aqueduct-(Cheshire Ring) by bargee - Adopted by clotguy
Ask Doctor D..
My Question for Dr D is: which is the oldest cache you have found? Our oldest cache was Europe's First which we found last year when a group of us travelled to Dublin!

Ey Up Me Duck
GC781 Angels View (Tyne & Wear) by Moss Trooper adopted by Dr Jones!
Hidden : 22/04/2001
GGH Tips..
Want to know whether you qualify for a challenge #geocache? Project-GC has easy tools to do that, and we talked with the Developer on "GGH 166: Project-GC II." Once logged in, pick "Challenge Checkers" from the "Tools" menu. You'll find many options there including the ability to search by the GC number. Paid members even have access to a map of the challenges they qualify to log. http://cacheamaniacs.com/ggh-166-project-gc-ii
GeoPauls Video Of The Week..
AWESOME RF-ID Geocache!!! by wvhunter1968
Check out Pauls YouTube channel at youtube.com/MrGeoPaul
Ey Up Me Duck Challenge..
This months challenge is to find 3 caches with weather related words in their title as you never know what to expect from the weather in April.
The Obligatory Doctor Who Bit..
From Seb, (ThaThanka) via Facebook..
GLH5FRYW Keep In Touch With The Doctor by Times Arrow
It was a must since I've seen photo on Facebook. In my today's FTF cache I found Dalek and it was obvious sign that I have to go to Alford. I'm not Doctor Who's fan and for me it's the same soap opera as Hollyoaks or similar value show but I would like dedicate my find to Doctor D from Oh Beep Geocaching Podcast and Dalek will go to him as TB. This is form of appreciation for Oh Beep Team's job.
Thanks for cool cache.
A Decade of the Doctor https://bundles.bittorrent.com/bundles/doctor-who all for £8
Join the Doctor on his extraordinary adventures through space and time with these specially selected ten episodes of Doctor Who. Marking a Decade of New Doctor Who, Peter Capaldi, the Doctor himself, gives an exclusive commentary on why these episodes mean so much to him. This special bundle also contains celebratory artwork, as well as Doctor Who: Earth Conquest – The World Tour which follows Peter Capaldi and Jenna Coleman as they launched series 8 around the world.